Dealing With Dog Health Issues...The Ultimate Guide to Dog Health!
Wouldn't You Rather Learn How to Deal with
Minor Dog Health Problems BEFORE
they Become Major Ones?
Have You Ever Been Faced With an ILL and DISTRESSED Pet and
Simply NOT KNOWN WHAT YOU CAN DO to Help?
Isn't it Time You Put an END to the Anxiety of Dog Care and
Avoided Needless Vet Bills with an Essential Home Guide to Dog Health?
Introducing The Ultimate Guide to Dog Health, your survival guide for stress-free dog care, with dozens of diagrams and photos to show you what to look for and what to do about it.
You'll find out when you need to rush off to the vet, and when your dog health problem is safely in your own hands. And with the free BONUS book on Dog First Aid, you'll be ready for anything.
Is your dog suffering from common health problems including painful toothaches or teething issues, ear infections, itchy or chaffing skin, eye irritations, worming issues, or that awful limping that just breaks your heart to watch???
Has your dog been plagued by chronic vomiting or diarrhea, persistent problems with his urine or stool, a cough that won't go away, nightmarish liver troubles, or perhaps even more severe conditions such as types of arthritis and cancer?
Are you baffled by symptoms such as patchy hair loss, unexplained lethargy or shortness of breath, a worrisome discharge, or any noticeable changes in behavior, such as your dog not eating, that may have an underlying medical cause?
Have you ever had to deal with an ill or injured dog without the knowledge and confidence necessary to provide the
RIGHT CARE, RIGHT AWAY???
At one time or another, whether you're a new dog owner or a well weathered one, you've been in a position like this. From the frustration of not spotting a symptom sooner to the fear of not knowing how to respond to a pet emergency, you've probably grappled with this most stressful part of dog ownership.
Or maybe you just want to learn more about the best friend you could have on four legs - but you want a source that doesn't read like a canine physiology textbook?
Whatever the case may be, we've got your answer...
The Ultimate Guide to Dog Health will be a small investment for a lasting return of health and happiness for your beloved pet, who is, after all, a member of your family.
Note from the Author:
Dogs can't point to where it hurts. And even though they are perfectly capable of crying when they want to, many choose to remain quiet and stoic when they are ill or in pain. For many dog owners, identifying and dealing with dog health problems is a real challenge. But it doesn't have to be...
When it comes to dog health care, even though there's no substitute for reliable veterinary attention, there's also no excuse for being totally unprepared, and for not doing the everyday things you can be doing to prevent the majority of problems that arise.
We are glad that you have taken such a positive step in dog ownership, and we hope that it will be repaid with years of exuberant gratitude from a healthy and happy dog.
Sincerely
Malcolm Fields
Kingdom of Pets, Ltd.
From: Malcolm Fields
May 1st, 2022
Dear Dog Owner,
Is your dog suffering from health problems that you need to get sorted and solved, and no later than right now? Do you ever worry that there might be something seriously wrong with your dog and you don't know have a clue about how to fix it?
Our guide is designed for dog owners like you who want to take a proactive and informed approach to dog ownership. Whether your dog is plagued by eye problems, ear problems, stomach and bowel disorders, vomiting, diarrhea, tooth and teething troubles, asthma and breathing woes, liver issues, older dog health concerns, or that pesky limp with a dozen possible causes, you'll find comfort in the pages of our guide to dog health.
No other guide on the market is as comprehensive and easy-to-follow, with step-by-step flow charts that take you from symptom to treatment for dozens and dozens of dog problems, from the tip of the nose to the tip of the tail and everything in between!
There's so much to know when it comes to dog health, but you don't need to be an expert to recognize and respond to whatever dog health concern comes your way. We've done that part for you already. This fully-illustrated, 240-page guide gathers together knowledge and advice from veterinarians and dog care professionals to bring you an essential resource for new dog owners. It is the product of much time and energy that has gone into something we all believe in: making dog care easy and keeping dogs healthy and happy, from their puppyhood to their golden years.
This guide extends the fine line of products brought to you by Kingdom of Pets, industry leaders in providing you reliable dog obedience and health care resources across a wide range of media. Our flagship dog training program, Secrets to Dog Training, has reached over 242,678 satisfied dog owners and is going strong!
With this Information as Your Own Essential Reference You'll Learn...
How to deal with COMMON stomach problems that can cause vomiting, diarrhea, or simply put your dog off eating - find out why you don't need to panic if there's blood in your dog's feces, but you DO need to act! (pages 55-64, 140-59)
How to stay on top of worming issues, and what to do when worming pills seem to cause more harm than good... (pages 45, 60-61, 146-47)
When a cough is just a cough and when it's cause for concern. (pages 50-54, 64, 162-64)
How much of dog health is really about SIMPLE MAINTENANCE rather than major treatment after the fact. (pages 40-86)
What the TIP-to-TIP Dog Examination is, exactly how to do it, and why you can't do without it. (pages 34-39)
How to thoroughly and accurately determine causes of LAMENESS and LIMPING, whether you're dealing with an old-timer or an energetic pup... (pages 180-92)
The absolute BEST WAY to keep your dog from licking open wounds and making them worse - the way that they actually PREFER. (pages 130-31)
How to pick up on the warning signs by becoming a proficient reader of DOG BODY LANGUAGE - you'll not only pick up potential problems early on, you'll also be amazed at how many "conversations" you've been missing!!! (pages 22-27)
How to identify the SUBTLE CHANGES in your dog's behavior, as well as basic physical changes that can indicate that your DOG IS NOT WELL. (pages 32-39)
Why so many of the problems in senior dogs that are dismissed as part of the normal aging process are in fact treatable disorders - you'll be surprised that in most cases dogs don't need to ACT old just because they GET old!!! (pages 29-30, 73, 109, 175)
What's REALLY in your dog's food, and why even a slight change in diet can have drastic benefits for your dog's longevity and overall wellbeing. (pages 68-73)
TOP TEN TIPS for fast, easy, and effective grooming - believe me, it's about much more than cosmetics when it comes to the health of your dog's skin and coat!!! (pages 79-96)
The ONE thing a happy and healthy dog can't do without - and how much of it is too much. (pages 74-75)
The guide includes over 50 detailed Diagrams,
Images, and Illustrations, all in full color.
Here are some samples: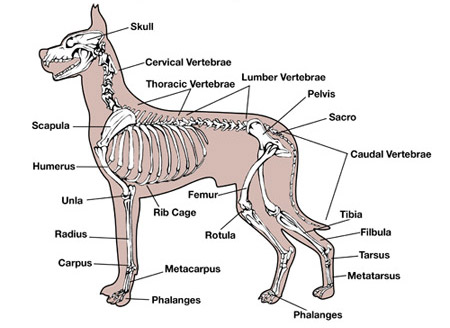 Canine Skeletal Anatomy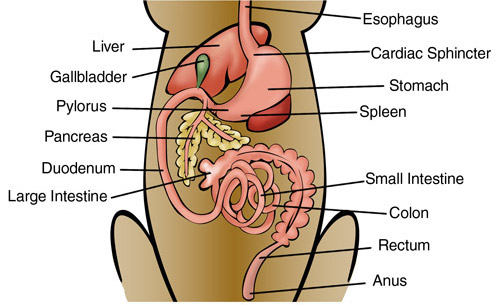 Canine Digestive System
You'll Also Get Answer to Nagging Questions...
How can SPAYING or NEUTERING your dog solve a host of other problems (in addition to the obvious one)? (pages 87-92)
What's the best way to care for a dog with liver trouble or diabetes?? (pages 215-16)
When is the BEST TIME to have my dog fixed, and why might it be different for male and female dogs? (pages 89 & 91)
What are "dew claws," and what do the experts say about getting them removed? (pages 83-84)
When is a broken nail just a broken nail, and when does it need that surgery? (page 181)
Which PRODUCTS will help in maintaining your dog's health and wellbeing, and will ones will be a waste of money? (pages 79-80)
What's the difference between HIP DYSPLASIA and ARTHRITIS, and what can you DO ABOUT IT? (184-85)
The TWO things that are TOXIC for dogs but many owners give to their pets unwittingly - with the best intentions. (First Aid book, pages 20-21)
The difference between vomiting and regurgitation, and which one is NO BIG DEAL for dogs. (page 140)
The RIGHT WAY to remove a tick. (pages 57-58)
The elusive truth about brushing a dog's teeth... (pages 66-67)
and so much more.
All in all, With Your Purchase of the Ultimate Guide to Dog Health You're Getting:
Comprehensive SYMPTOM CHARTS relating to all of the canine body systems, which will empower you to MAKE CONFIDENT DECISIONS about your dog's health requirements. Each chart moves from specific symptoms to a recommended path of treatment, and advises if, when, and how urgently you should seek veterinary attention. When it comes to dog health care products, these charts are an absolute gem!


Fully-illustrated, step-by-step instructions that walk you through the process of SAFELY GIVING MEDICATION to your dog - whether it's for the eyes, ears, or mouth, by pill or by paste, you'll rediscover confidence and cooperation when "medicine time" rolls around.

For example, here's the second step of giving liquid medication to your dog:

STEP 2

Next, carefully introduce the tip of the syringe into the side of your dog's mouth using your right hand, while still firmly holding onto your dog's muzzle with your left hand.

A detailed reference to more infectious canine diseases that you can shake a syringe at - and clear recommendations for a failsafe program of vaccination.

Detailed care advice written in plain English, on how to deal with everything from allergies to canine cancer.


A full catalog of all of the common parasites that can affect your dog - internally and externally - complete with color DIAGRAMS that will help you identify these tiny enemies if they make your dog their home.


For example, meet a flea, up close and personal:

Scores of QUICK TIPS that give you that extra insight on maintaining your dog's health, like these:

And, of course, a No-Questions-Asked Refund if you are not Satisfied with Your Purchase.
But it Gets Even Better...
Because I really want the best for all dogs and their owners, I'm throwing in four exciting Free Bonus Books if you order online by midnight Saturday, May 21st.
BONUS ONE - The Ultimate Guide to Dog First Aid (worth $24.95)
That's right, you'll get your own copy of The Ultimate Guide to Dog First Aid, the ideal companion book to the health guide, AT NO ADDITIONAL COST. Our first aid guide is the intelligent dog owner's resource for first response dog emergencies.
From accidents to health problems, from fights to bites, this handbook is written for dog owners who understand the power and peace of mind that comes from being prepared.
You'll Discover:
How to perform "Doggie CPR," Chest Compression (pages 14-17), and even the canine version of the Heimlich Maneuver in life-threatening situations (page 15) - it doesn't get more essential than that!!!
How to MAKE a MUZZLE in an emergency when you don't have one (page 5).
Why "shock" means a lot more in medical terms than you might think, and how to treat a dog suffering from it. (page 13)
How to treat BITES (page 22), BURNS (page 24), and BLEEDING WOUNDS (pages 6-8) the right way to ensure the quickest recovery with the least discomfort.
A COMPLETE and CONFIDENT method for determining which situations are emergencies and which are not, and how to give URGENT CARE where urgent care is needed.
BONUS TWO - 175 Gourmet Recipes for Your Dog (worth $19.95)
We're also throwing in some sure-fire favorite handbooks for those of you who don't mind a bit of INDULGENCE when it comes to dog care: a 3-book series on FUN and NATURAL Dog Care.
A man who makes every dog a hedonist, John Stanley knows how to ENJOY caring for - and indeed COOKING for - a beloved pet. In this handbook, 175 Gourmet Recipes for Your Dog, Stanley offers an impressive scroll of recipes that are guaranteed to get the drool flowing and spoil your dog for life...
Starting with the all-important list of what NOT to feed your dog, the handbook includes an incredible menu that will teach your dog the real meaning of variety when mealtime comes around.
With nearly 200 pages full of everything from "Down-Home Hound Hashbrowns" for the dog who loves breakfast to "Little Lassie Livers" for puppies, you're bound to hit on your dog's favorite dish - and have loads of fun trying... There's even a section on international cuisine for your pooch!!!
BONUS Three - 101 Ways to Spoil Your Dog for Under $10 (worth $19.95)
In 101 Ways to Spoil Your Dog for Under $10, Stanley offers up all manner of low-cost luxuries for your dog AND free and fun activities that will keep both of you entertained for hours.
From the entirely sensible (such as how to find a great dog park that's not a "dog park") to the completely ridiculous (such as how to find the right costume for your dog for the pet parade), you'll take your relationship with your dog to a whole new level!!!
The best part about it??? At under $10, all 101 items in Stanley's handbook will keep you well within your budget!
BONUS Four - 20 Super Healthy Recipes for Your Dog (worth $19.95)
As if he didn't go over the top enough already with his 175 gourmet recipes, Stanley has come back for more with a handbook containing 20 Super Healthy Recipes for Your Dog (Perhaps his own dogs were getting a bit on the heavy side!) These recipes are designed to be easy to prepare and will prove once and for all that healthy food can taste just as good as everything else - to your dog at least.
This 24-page handbook is much leaner than his first recipe book, but no doubt just as delicious!!!
Yet another Bonus worth $19.95... but yours free with your order.
Your GUARANTEE: 60 Day Instant Money-Back Guarantee
Take up to 60 days to examine and use the dog health care information, tips, and techniques included in
The Ultimate Guide to Dog Health.
If you are not satisfied with our product for any reason, or it doesn't live up to your expectations, just send us an email and we will refund your payment.

We're that confident. It's that simple.
If you've NEVER BOUGHT ANYTHING ONLINE before…
Consider Some of the BENEFITS of Downloading Books Online...
Online Books are easier to find, easier to buy, and they cost much less, for both reader and publisher…
Think about it:
Zero shipping costs.
No waiting time.
No risk of products lost or damaged in the mail.
A lower price to you, because lower publication costs for us.
Clear instructions and technical support every step of the way.
The fastest way to order is directly online with our payment provider Clickbank.
Clickbank sells our products - they are a trusted online retailer specializing in digitally delivered products.
NOTE: So that we can offer you this great price, the Guide is ONLY available as an electronic download at this time.
To Sum it All Up - You'll Receive...
Order The Ultimate Guide to Dog Health Here!!
Order THE ULTIMATE GUIDE TO DOG HEALTH INSTANT DOWNLOAD
for only $49.95 $37.00
(Valid Until Midnight Saturday, May 21st Only)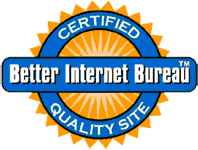 Remember...
Our guide is designed for dog owners like yourself, who realize how important it is to be proactive about their pet's well-being. Being ready will not only save your dog potential discomfort and pain that advanced symptoms can bring, it can also save you money at the Vet when you spot small problems before they become big ones. Having a comprehensive guide to dog health better equips you to cope with the often wild lives of our domesticated companions.
Sincerely,
Malcolm Fields
Kingdom of Pets, Ltd.
www.kingdomofpets.com
P.S. Only orders that are received before Midnight Saturday, May 21st can take advantage of our promotional bonuses and our unbeatable introductory price.
P.P.S. Remember, you're not only getting a massive, color-illustrated book on Dog Health, but you're also coming away with:
A FREE copy of Kingdom of Pets ULTIMATE GUIDE TO DOG FIRST AID
175 Gourmet Recipes for Your Dog
101 Ways to Spoil Your Dog for Under $10
20 Super Healthy Recipes for Your Dog
Don't delay...
Order Your Ultimate Guide to Dog Health for $49.95 $37.00 NOW
...and get the peace of mind that comes from being prepared!